About Us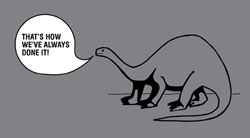 Our mission is to frustrate, educate and motivate the church to communicate, with uncompromising clarity, the truth of Jesus Christ.
Church Marketing Sucks is a part of the Center for Church Communication (CFCC), a nonprofit organization where courageous storytellers are welcome.
Frustrate.
Something's wrong with your church. Something's wrong with the Church. Church marketing efforts and communication in general suck. We've got the greatest story ever told, but we don't know how to tell it. The church has a problem communicating, and it's time to change.
Educate.
We love the church, but it needs some help. Typos, cheesy logos, and bad clip art aren't helping the cause. But snazzy marketing won't save this ship, either. It's not about being perfect, but there's a better way to communicate. It's authentic, it's loving, and it knows how to spell.
Motivate.
This isn't simply about putting butts in pews or selling glossy postcards. It's about helping the church be the Church, and seeing lives changed as a result. If helping the church communicate better allows one person to finally glimpse the gospel, then our work has been worthwhile. It may be fuzzy math, but God can worry about that.
---
Offended?
Good. So are we. For too long the church has been the object of scorn and Christians have been the reason people turn away from Christianity. It's time to change.
If you're offended by our use of the word 'sucks,' we do offer an alternative url, ChurchMarketingStinks.com, and we'd encourage you to check out our rationale for using the word 'sucks.'
---
Our Team
A lot of good people have been involved in our mission since our start in 2004. People come and go—but we're thankful for every one. Here are the good folks currently helping out:
It's hard to have team photos when you don't have an office, but here are just a few of the folks who have helped make Church Marketing Sucks what it is:
---
What's in It for Us?
A lot. We want to see this name changed to ChurchMarketingNoLongerSucks.com as soon as possible. All of us behind this project are communicators. From writers and designers to businessmen and creative pastors, we all want to help the church communicate better.
The reality is that we all have day jobs, too. Many of us make a living at the very thing we're asking churches to do: design better, write better, communicate better. Are we asking churches to hire us? Nope. Do we need them to hire us to put food on the table? Nope. Would we turn a church away if they did want to hire us? Probably not.
ChurchMarketingSucks.com is an idea, not a business. You'll notice there is limited advertising, no pop-ups, no gimmicks. We're a part of the nonprofit CFCC, whose mission is to help churches communicate better. What's in it for us is what's in it for the church: not sucking.
---
History
"We can't just help the church look good. We have to help them tell the story." -Brad Abare at an April 15, 2004 meeting that launched Church Marketing Sucks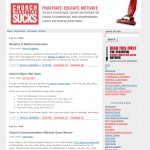 Our very first post went live on July 22, 2004. We've been helping the church since.
You can check out our 10-year anniversary celebration for more history. Our 10-year reflection has even more context and details from throughout our history.
You can also watch our 10-year anniversary hangout with Brad Abare, Chuck Scoggins, Kevin D. Hendricks and Dave Shrein:
---
Legalese & Disclaimers
Affiliate links: We use affiliate links with Amazon.com and a few other sites, meaning that we receive a small portion of any purchases you make after clicking on our links (like this one). It's not much cash, but it helps pay the bills. It's a simple way you can support the work we do.
Reviews: We often review resources and sometimes publishers and creators send us those resources for free in hopes that we'll review them.
Copyright: All material on this site is owned by CFCC. While it is available online and through RSS, that does not constitute permission to reprint material. Without permission you are welcome to link to our site or any of our content or excerpt up to 200 words of our content (or not more than 50%, for posts shorter than 200 words), as long as you include a link to the original content. Our permission is required for any reposting, reprinting or translation.